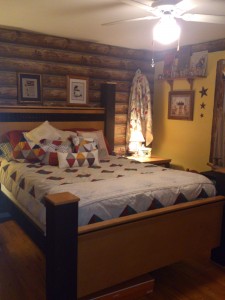 Do you ever watch television shows that focus on closet design and wish you had that type of closet space? Why not design it yourself? Give me a call and we'll schedule an appointment to discuss your closet remodeling options. Collect pictures of aspects you'd like to see built into your closet and I'll show you how we can make those ideas a reality.
Finding the Extra Space
Most people who only dream of having a large designer closet believe that they don't have enough space to create one. Here's a secret – you don't need a lot of space to create an amazing closet. The key to building out the perfect closet is in making the best use of available space, not necessarily creating more space.
Example One: Corners are often under-utilized in a closet. They're usually boxed in to be used as hidden storage, which makes them inefficient. Consider leaving corners open for hanging or build corner shelves for more efficient storage options.
Example Two: Floor-to-ceiling shelving and moving units add a lot of space where you'd least expect it. Moving closet units allow you to double up on hanging space without losing a lot of space where you need it most. This type of mobility also allows you to move things out of the way to create space as needed.
Closet Organization Tips
Hanging space is prime real estate in a designer closet. The more clothing you can hang, the more organized your closet will appear. I don't mean you have to try to jam everything onto hangers and wedge them onto a bar. Create spaces to hang things by category so it's more convenient. Also use things like baskets, built-in shelves, sliding drawers, shoe shelves, and hanging hooks to your advantage.
Every Designer Closet Needs These Items
I use the word need here, because it's true. Every designer closet needs full length mirrors, adequate lighting, and sitting space. Adequate lighting is probably a given. After all, no one gets dressed in the dark to get ready to go to work or out on the town.
Strategically placed mirrors give you a full view of the front and back of your clothing before you leave home. This allows you to know undoubtedly that you are dressed for success every day. The mirrors should be adjustable so you can maneuver them to see the full view of your clothing from any area in the closet.
A bench or chair provides several benefits to a designer closet. A properly designed bench may be built into the wall to use as extra storage, or as a stand-alone unit with storage underneath. Large, bulky items such as extra blankets and sheets may be stored under a bench seat.
Dream, Plan, Design, Call
If you need more closet space or are dreaming of designing your own designer closet, call me to discuss details. We'll schedule a free consultation so you can show me your ideas. I will inspect the area you intend to turn into closet space and offer up my suggestions. Together, we can make your dreams of a designer closet come to life.