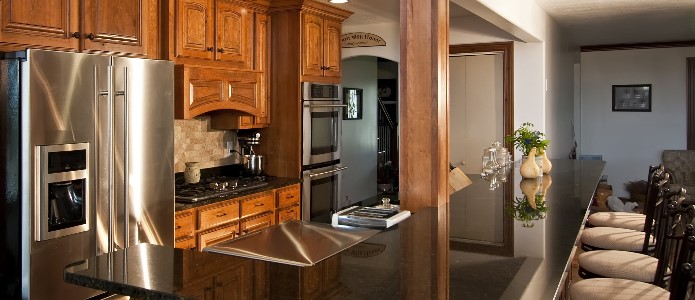 I'm sure you've seen different articles and blogs that estimate the remodeling costs of a kitchen and refer to words like low-range, mid-range, and upper-range. Today I'm going to go over the different price ranges. I'm going to give some great money saving tips, and encourage those of you who want to attempt a DIY kitchen remodeling project. I don't recommend taking on a kitchen remodeling project as a DIY project if you don't have any experience at all building things.
Low Range Kitchen Remodel
Low range kitchen remodeling projects may cost along the lines of $5,000 to $9,000 depending on materials used. New, low-end appliances may be purchased for roughly $1,800 and then the rest goes into cabinets, flooring, and paint. You have to really watch your budget with a low range model, because it's so very easy to go over. You won't be able to use the best materials, but if you're updating a very old kitchen, you can do a lot with less than $10,000.
Mid Range Kitchen Remodel
A mid range kitchen remodeling project will likely cost between $11,000 and $18,000 depending on materials. You have a little more wiggle room with a mid range remodel, so splurge for slightly nicer appliances and materials. You still have to keep an eye on the budget, because the solid wood cabinets you may prefer will cost significantly more than others in the lower price bracket.
Upper Range Kitchen Remodel
An upper range kitchen remodeling project starts at approximately $25,000 and goes upward from there. It often appears as if the sky is the limit with an upper range kitchen remodel. Most homeowners who plan a project within this price bracket often want the benefits of a professional kitchen environment and are willing to put their money toward impressive new top-of-the-line appliances to achieve their goal.
Money Saving Tips
One of the best money saving tips I can give any homeowner is to avoid plumbing changes. You get into some expensive changes when you need the plumbing moved from one area of the kitchen to another. Also, consider painting your existing cabinet hardware, light fixtures, and electrical outlet covers. Small items such as these slowly eat away at your budget while you aren't paying attention. Make sure you purchase all of your big money purchases before you consider the small ticket items.
DIY Projects
Low range kitchen remodeling is as far as the DIY project should go in my professional opinion. Attempting to perform a mid-to-upper range remodeling project will likely result in an overabundance of frustration due to your own personal expectations. You obviously want a high-dollar project to have a high-dollar finish. Some homeowners may be able to pull this off, but others will find it very frustrating. Some of the best DIY projects include painting, sanding and refinishing kitchen cabinets, and replacing appliances. You would be amazed at the difference a quick DIY project can make.
Feel free to give us a call here at Quality Craft Construction, and I'll help you with your kitchen remodel needs. I have many years of experience working with homeowners in the Farmington, Montana area, and would love to have the opportunity to work with you as well.