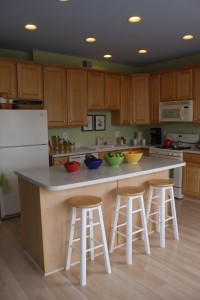 The perfect designer kitchen doesn't have to cost a fortune. Plenty of DIY websites are willing to walk you through every step of the process leading you to a new kitchen. Unfortunately, a lot of people who try the DIY kitchen route end up calling us to help finish the job. Work gets in the way, the job becomes overwhelming, the honey-do list is too long; whatever the reason, we're available to put your kitchen back into order or build you a new one.
Designer Kitchen Ideas
Build an Island: A properly designed kitchen island adds a lot of functionality to the kitchen. Whether you include a cook top, eating bar, extra storage, or create a cleaning and prep area complete with sink and built-in cutting boards, you're sure to love it. An island is great for nearly any size kitchen.
Redesign the Cooking Area: Most people immediately mention the cooking area when asked their least favorite part of the kitchen. Consider rearranging the kitchen to optimize the area surrounding the cooking area. Use open cabinetry to create a cleaner, more open feel, as well as an area to hang pots and pans, and small, frequently-used utensils.
New Kitchen Cabinets: Cabinets can make or break a kitchen. Many people feel that they have too few cabinets, but the opposite is often true as well. Too many cabinets create a cluttered look, and allow you to hoard things you wouldn't normally keep. Consider how many cabinets you actually use full time compared to those you just toss something into from time to time. Do you need more cabinets, or fewer?
Industrial Grade Equipment: You don't have to be a professional chef to deserve high grade equipment. High dollar cooking equipment lasts longer than cheaper counterparts. This decision requires you to ask yourself how much you're willing to spend on your designer kitchen, and how often you plan to replace appliances that break over time.
Build for the Future: This idea is similar to the previous one. Build your new kitchen for the future. Many people plan to retire in their existing home. If this is your ideal situation, consider things you'll need in the future. Kitchen islands are difficult to navigate with a walker or wheelchair in tight areas. Too many high cabinets will create an unsafe environment for those with mobility issues.
Getting Started
The very first thing you need to do is create a budget. How much money are you willing to spend to get the kitchen of your dreams? Obviously a designer kitchen can get very expensive; know what you can spend well ahead of time.
Decide what you're going to keep and what you're going to throw out. Are you going to get all new appliances? Consider selling your existing appliances to help recoup costs of new ones. Are you going to get all new cabinets and counter tops? Your existing ones may be a great deal for someone building their first home.