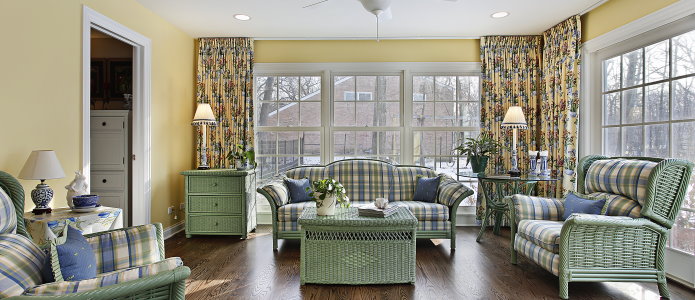 Remodeling your home isn't always a quick, easy, and inexpensive project. I've put together a list of 12 great ideas for your next remodeling project that won't leave the project in the dirt or break your budget. This list will show you that it is absolutely possible to have your cake and eat it, too.
Compact Efficiency
The primary reason people want to remodel a room such as the kitchen or bathroom is to increase the efficiency of that room. You don't have to knock out walls and increase square footage to make a room more efficient. The alternative way is to get rid of clutter, rearrange cabinets, and install upper cabinets that reach the ceiling. Unused corners may be the saving grace for your budget – install storage in your currently unused corners. A quick look around your kitchen or bathroom with a creative eye may reveal storage possibilities that you never dreamed existed.
Donate Used Items
One man's trash is another man's treasure. Donate your used items to Habitat for Humanity or another charity that helps those less fortunate. It usually costs money from your remodeling budget to dump large items; it's free to donate, plus you get a tax deduction. Win/win.
Contractor Resources
Discuss your project with a contractor and ask if they have any resources leftover from other jobs. Many contractors hold onto some of the discarded items from previous jobs, especially if they think they can be reused to someone else's benefit.
Brand Knockoffs
Name brands are expensive and often unnecessary. You can often purchase off-brand knockoffs that look and work exactly like the expensive name brands. Make sure to research each product so you know the quality before you make the purchase.
Winter Remodel
Most contractors are very busy spring through fall, but not busy at all during the winter. You may even receive a discount on the hourly rate by remodeling in the winter. Discuss this option with your contractor.
Don't Move Plumbing
Moving the plumbing gets expensive fast. Try to remodel your kitchen or bathrooms without moving the sink(s), shower(s) and toilet(s).
Paint is Your Friend
Sometimes a fresh coat of paint is all you really need. Paint the walls, ceiling, and refresh your furniture with new stain or paint. Choose your paint colors wisely so you can achieve the fresh new look you're going for.
Shop Online
Sometimes you can find much better deals online than you can locally. Always try to shop locally and support local business. But if you are unable to find what you're looking for locally, I suggest shopping online to save time and money.
Elbow Grease
Don't be afraid to do some of the work on your own. You can hire a contractor to do the tough stuff, and then do the finishing touches on your own as long as you're comfortable with such tasks. Painting, sanding, and staining are things homeowners often find enjoyable and rewarding. You can also clear the clutter and do the post-remodel cleanup on your own to save time and money.
Surface Remodel
Some homeowners like the overall functionality of their home, but just want a surface remodel. Surface remodel ideas include:
Interior Painting
Refinishing and staining wooden furniture
New switch plate covers and electrical outlet covers
New doorknobs, handles, hinges, and cabinet and drawer hardware
New lampshades make a big difference
Different light bulbs to create a different ambience
New curtains or blinds
Plan Ahead
Don't get caught off guard during any step of the process. Plan ahead, purchase things well before they're needed, and discuss all available options with your contractor.
Be Unique
Don't go to your contractor and say, "I want my neighbor's kitchen." You won't be happy with that decision when all is said and done. Make your own plans, collect pictures from the Internet, and work with your contractor to create a space that is uniquely yours.
Work with a Local Contractor
Hire a local contractor to work on your home. People who live in your general area know local housing and weather trends, and how to make the most of your remodeling project. Give us a call here at Quality Craft Construction, Inc. to schedule an appointment for a consultation.