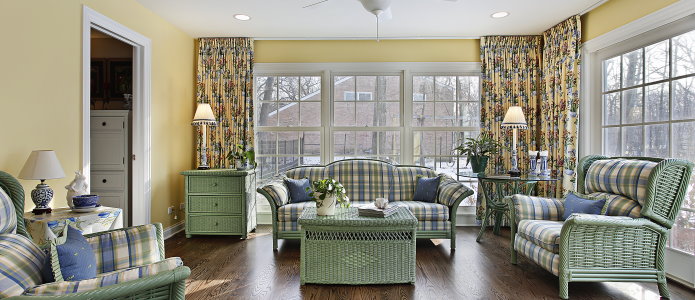 I can't believe it's August already, and fall is just around the corner. It seems like we're just leaving a harsh winter behind, and it's almost time for cooler weather already. Some home improvement projects are better left to the cooler temperatures and lower humidity that fall brings. Our crews here at Quality Craft Construction want to make sure that your home is ready for another potentially long and rough winter. Let's talk about some of the ways we can help you prepare for winter while bringing out the full potential of your home.
Add on a Room
Most homeowners can honestly say that they need more space. Space for another closet, another bedroom, another bathroom, a larger kitchen – whatever reason you need space, we're here to help. Remodeling and building onto your home are great fall projects because the weather is cooler and you don't have to worry about all of that hard work your air conditioner is doing flying out the open hole in your house.
Roofing
Winter 2014 was pretty harsh in the Farmington, Montana area, and then summer brought some pretty heavy rains. I recommend that you inspect your roof thoroughly to make sure there are no missing shingles. Look for other damages, and do some cleaning while you're up there. Clean the roof and guttering after the trees have shed all their leaves to make sure your guttering is working properly.
Remodel Your Home
Remodel your existing home to improve traffic flow as well as air flow. A cluttered kitchen can often be fixed by a simple remodel. A too-small bathroom can be made to feel much larger with the right remodeling contractor. Remodeling can also lower your energy bills simply by increasing the air flow through your home. Rooms with a single entryway don't allow good air flow, but a nice open-floor plan does.
Interior and Exterior Painting
Early fall is the perfect time for painting; both interior and exterior. Fall weather is generally very mild, allowing you to keep windows open during and after an indoor painting project. This allows the paint to dry more effectively while allowing fumes to escape easily.
Update Doors and Windows
Many homeowners have no idea the actual age of the windows and doors on their home. This is especially true if you are the home's second, third, or fourth owner. Home ownership doesn't require the existence of a home improvement or maintenance log, and most owners don't keep one. Windows and doors become less effective at blocking wind and weather over time. They should ideally be replaced every 10 to 15 years.
Adapt Like the Seasons
Fall is a beautiful transitional season here in Farmington and the surrounding areas. It truly is the perfect time of year to do some major home improvement projects. End of summer projects mark the end of one season and the beginning of another. Whether you're considering door and window replacement, adding a room onto your home, or just remodeling some area of your home – give us a call to discuss your ideas. We'd love to hear from you and help transform your home into the home you need it to be.